The problems of environmental security are the most urgent these days for mankind. Industrial facilities that produce and process raw hydrocarbons, petrochemical, chemical, transport enterprises, etc. cause severe environmental problems, both at regional and local level. In this case, the negative environmental impact of enterprises spreads to the subsoil, atmosphere, soils, groundwater, biosphere. One of the causes of negative consequences of man-made impact is the problem of decontamination, disposal or temporary storage of toxic waste of different hazard classes formed in significant amounts. The solution to this issue is the most urgent environmental problem for all industrial enterprises.
Landfills are an integral part of the waste management system in Russia. 85 billion tons of solid industrial and municipal wastes have been accumulated on the territory of Russia. The following wastes are annually produced in Russia: industrial wastes – more than 3 billion tons; SMW – more than 40 million tons; construction wastes – tens of millions of tons. Annual increase in unusable solid waste: 2-2.5 billion tons.
Joint storage of different types of waste is the main feature of landfills in the Russian Federation. The level of waste management in Russia is less than 10%, whereas the current level of waste recycling in highly developed countries reaches 65%.
According to Rosprirodnadzor there are 23,963 waste disposal facilities in Russia, including: 2,620 SMW landfills; 10,150 industrial waste disposal facilities; 11,193 unauthorized landfills. Waste disposal facilities that meet requirements – no more than 8%.
At the same time, the landfill remains an economically viable method for recycling waste, while meeting environmental and process requirements. Currently, a trend towards centralized treatment of industrial toxic waste at landfills using factory technologies for neutralizing and recycling of wastes emerged.
Waste should be disposed at specially designated landfills. Landfills are environmental facilities designed for regular centralized collection, disposal, neutralization and storage of unusable waste. The number and capacity of landfills for each region is justified through technical and economic estimates.
The main condition for industrial waste reception on these landfills is compliance with sanitary and hygienic requirements for atmospheric air, soil, groundwater and surface water protection. The main criterion for industrial waste reception is the composition of filtrate at pH = 5-10 and temperature 10-40°C, explosion, spontaneous combustion, toxic gases release, intense dusting failure of waste. Their humidity should not exceed 85%.
Such industrial wastes that could ignite spontaneously due to chemical reactions in depth of stored mass or emit vapors and gases that form explosive or toxic mixtures with landfill air or gas are not permitted for disposal at landfills.
REATORG PROPOSES A COMPLEX APPROACH TO ESTABLISH INDUSTRIAL WASTE LANDFILLS INCLUDING:
Landfill concept development;

Development of project documentation and its expert review;

Execution of works on landfill construction and facility commissioning.
In case of industrial wastes landfill design together with domestic wastes landfill, the following shall be included in the landfill design by agreement with the Customer:
weight checking and radiation control systems;

disinfection barrier (disinfection bath for wheels of special vehicles);

solid waste landfill filtrate neutralization unit, which provides for:

modern waterproofing system;

SDW landfill disposal system;

waste treatment facilities for filtrate and storm run-offs;

landfill gas collection and disposal system that provides for its recycling (for example, use of landfill gas to meet the energy needs of the administration building and utility systems of the enterprise).
.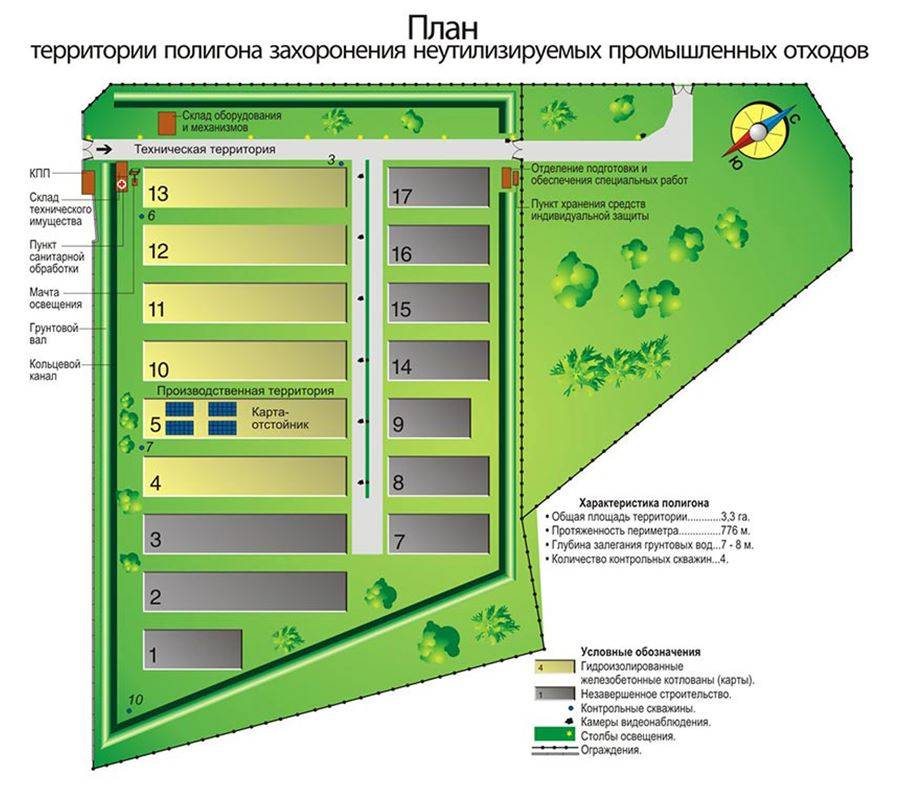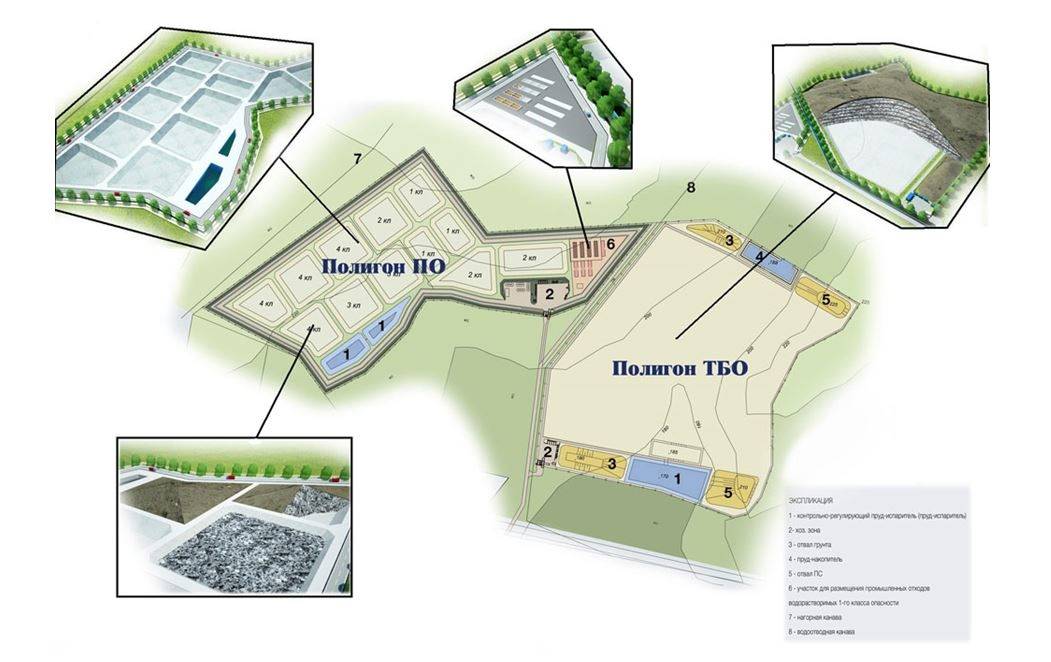 Reatorg has experience in construction of the following facilities:
industrial and domestic waste landfills;

complexes for thermal destruction (neutralization) of waste;

sorting and advanced waste processing facilities;

reclamation of dumps and landfills;

design of environmental protection facilities.
We perform the following works:
Land plot layout diagram preparation.

Development of architectural solutions.

Development of structural concepts and space-planning solutions.

Information on engineering equipment, on utilities systems, list of engineering and technical measures, content of process solutions.

Construction management plan preparation.

Management plan preparation for demolition or dismantling of facilities.

Elaboration of environmental measures.

Elaboration of fire safety measures.

Project documentation preparation by the contracted developer or legal entity or individual entrepreneur (general designer).
DED quality control is provided by:
Applicable internal regulations for the DED preparation and execution in accordance with GOST R 21.1101-2013.

Engineering supervision, confirmed by internal documents.

Regulatory compliance verification.

Accumulation of the database of comments of the State regulatory authorities and its analysis.

Measures on exclusion the repeated comments to the output products (internal, by the regulatory authorities, by the Customer).
The territory for landfills is selected after the following works:
Geological engineering surveys

Engineering and geodesy surveys

Engineering and hydrometeorological surveys

Engineering and environmental surveys
Landfills are not allowed:
on the territory of sanitary protection zones of water sources and mineral springs

in all resort protection zones

in areas of fissured rock outcrop

in areas of aquifer outcrop

in mass recreation places and sanitary institutions
The whole complex of design and survey works is provided by: necessary equipment; work experience; SRO permit; accreditation of laboratories.
The following studies are carried out during the survey: radiation; soil examination of the adjacent territory; waste examination; surface and subterranean waters analysis; landfill filtrate examination; groundwater analysis; examination of bottom sediments; soil vapor survey in the landfill body; atmospheric air analysis
Design decisions and activities include:
Surface levelling with slopes for the land runoff drainage;

Waterproofing of landfills to prevent contact of atmospheric precipitation with a contaminated mass;

Establishment of the filtrate availability and condition monitoring system;

Establishment of the landfill mass vent system;

Environmental monitoring;

Landscaping.
Environmental safety is a key priority in the landfill construction. The proper organization of waste storage and reliable waterproofing are ensured.
With regard to SMW, the following is technologically provided:
Waste compaction which ensures the elimination of stored waste impact on the environment, spread of infection; fire prevention due to the accumulation of biogas; increase of landfill service life and reduction of its area.

Waterproofing is as an obligatory factor, providing reliable multi-layer screens under the landfills. Innovative technologies and materials are used for waterproofing that allow for laying reliable screens of vast area within a short time. The use of extra strong polyethylene guarantees the engineering structure life for a period from 100 to 500 years. The design base cost is lower than if standard clay screens are used, and the efficiency is several times higher.

Our company together with partners performs professional design of industrial waste and SDW landfills taking into account all norms and rules, modern technology and environment protection requirements in accordance with the standards used internationally.
The development of projects is carried out at the stages with all the necessary approvals and examinations.
VERSIONS OF SDW LANDFILLS GAS CONSUMPTION SYSTEMS
Reatorg has developed and tested the technology of treatment and neutralization of filtrate from solid domestic waste landfills.
The standard system consists of a number of vertical wells connected by horizontal pipes. The average landfill gas collection radius is about 50 m. The gas collection system can cover the entire territory after the end of landfill operation or some of its parts as it fills.
If the collected landfill gas is simply burned in flares, then the implementation of the landfill gas collection system is a purely ecological measure. In economic terms, the landfill gas may be used as a high-calorific fuel. In order to maximize the efficiency of landfill gas collection, the optimal number of wells at the landfill and their location is determined.
The landfill gas collection, neutralization and disposal system elements are:

gas wells;

connecting piping;

condensate traps;

gas gathering station;

compressors and decontamination/disposal units (flare, packaged heat power station, etc.).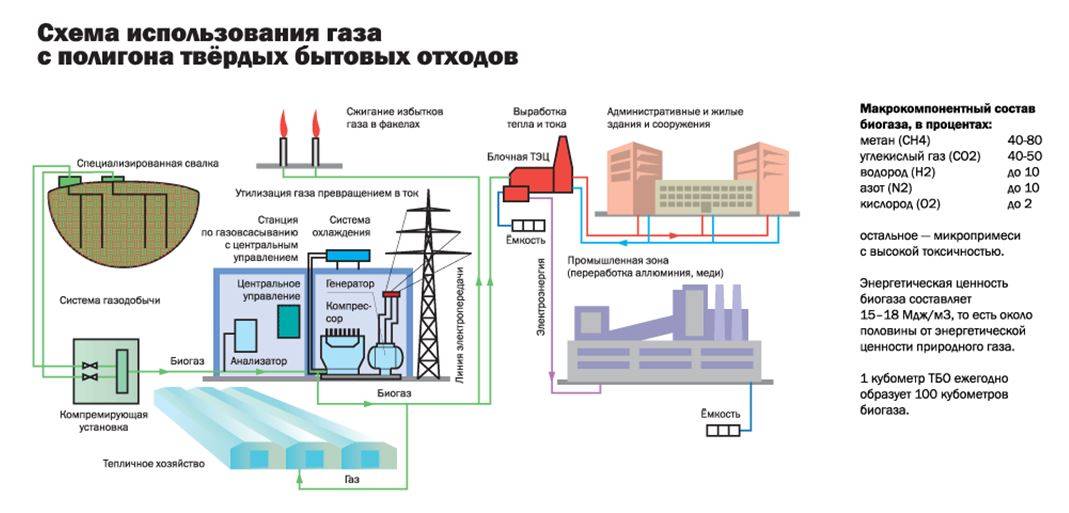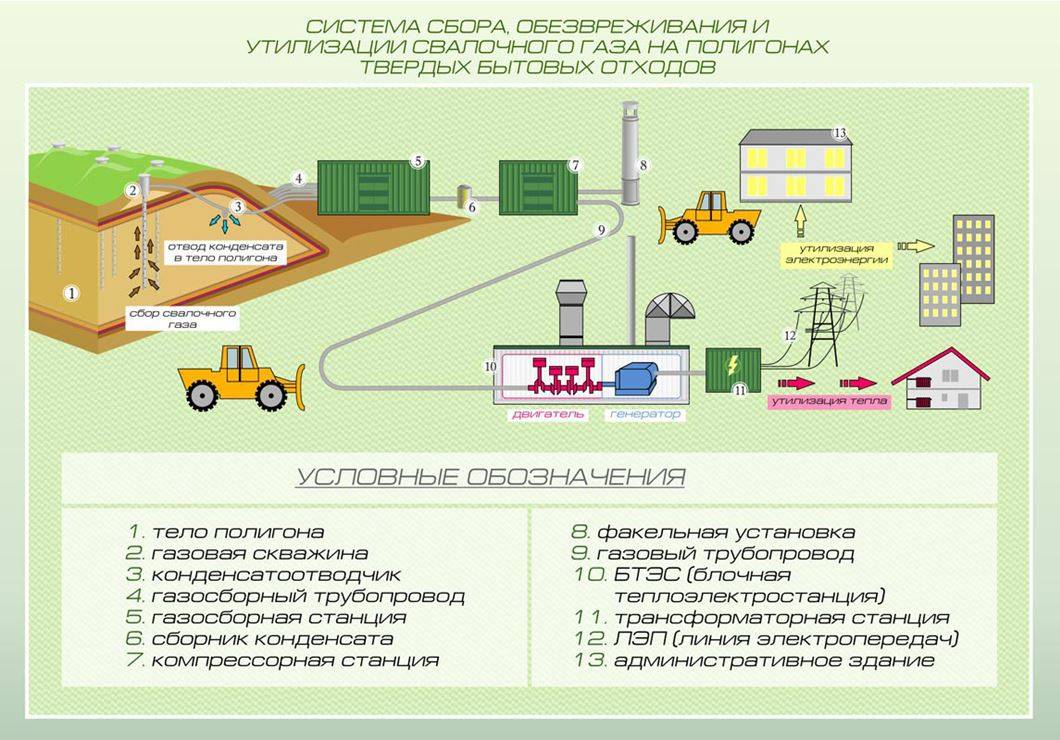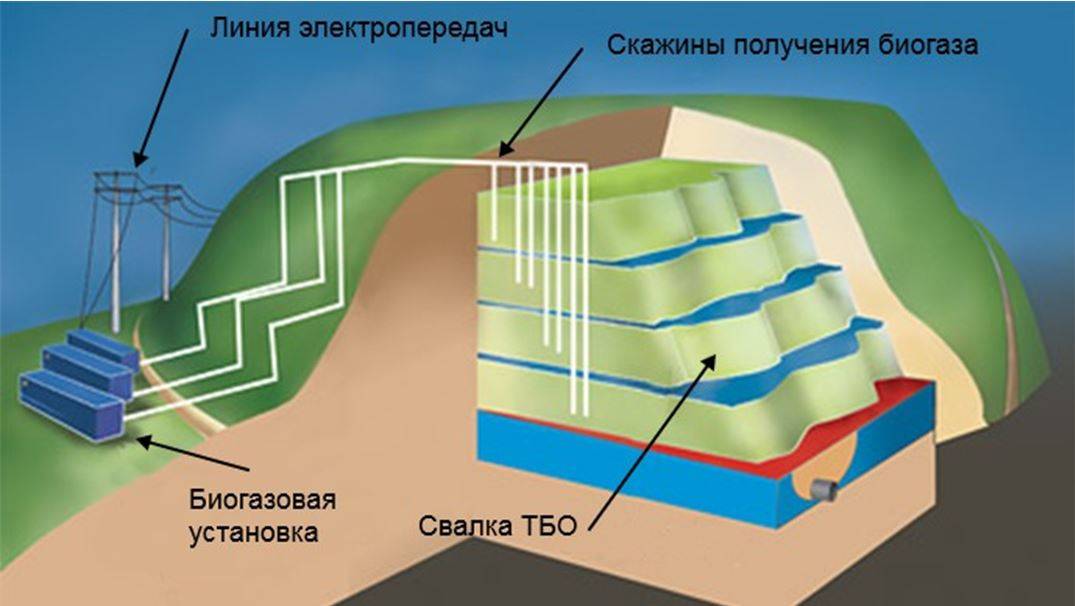 VERSIONS OF SDW LANDFILLS FILTRATE TREATMENT FACILITIES
Reatorg has developed and tested the technology of treatment and neutralization of filtrate from solid domestic waste landfills.
In accordance with the developed technology, the contaminated filtrate undergoes multistage treatment:
settling of the bulk of organic substances and heavy metals;

sediment detachment;

ammonia air stripping on cooling tower using scrubber;

neutralization of filtrate and its subsequent treatment by the reverse osmosis unit;

discharge of treated water to a water body, ground surface, or its usage for production needs.
The company performs the following types of work:
design of local filtrate treatment systems;

construction of local filtrate treatment plants;

manufacturing and supply of equipment for local plants;

commissioning on a "turn-key" basis