The importance of accumulation and reuse (disposal) of industrial wastes is obvious. Enterprises of forest, paper, mining, chemical and power industries as a result of their activities produce quite substantial volumes of waste, called sludges (ash, slag, gas cleaning waste, tailings of ore mining and processing mills, soda, salt and other waste from chemical plants). In most cases, these wastes are disposed with water in the form of pulp in special sumps, called sludge collectors and tailings dumps. Sludge is generated in different production processes and represents colloidal systems consisting of finely dispersed insoluble particles suspended in different liquids. Their number varies within a wide range, depending on the type of production. For example, the amount of oil sludge generated in oil refineries does not exceed 1% of the amount of refined oil, while in phosphorus production, the amount of generated sludge (phosphogypsum) reaches 30% of the volume of its production. A significant amount of sludge containing precious metals and minerals is generated in alumina production (red mud), at heating enterprises (ash and slag waste), chemical industry, in machine and other industries. For instance, at chemical enterprises in the country up to 120 thous. tons of iron sludge, 70 thous. tons of zinc sludge, 13 thous. tons of copper sludge and many others are generated annually.
In many cases sludge is discharged into sludge collectors, dumps and ponds, polluting both air basin and underground and surface waters. For example, only 0.5% of generated oil sludge is neutralized.
Sludge usually is highly toxic and contaminated with organic and mineral impurities. At its burial in sludge collectors, in addition to damage to the environment, a large amount of valuable raw materials is also lost. Reuse of materials extracted from sludge, on the contrary, allows saving in appreciable quantities natural resources and relieve the burden on the environment.
Sludge dumps occupy large areas, pollute badly the atmosphere, surface waters, earth surface. At the same time, these sludge, for the most part, is "technogenic deposits" of valuable natural resources and can be processed completely into products of high consumer value.
Environmental concerns and irrational use of mineral resources can be solved by creating modern non-waste production facilities for processing of sludge dumps generated at industrial facilities.
Reatorg LLC performs a set of works aimed at the creation of production facilities (plants, complexes of plants) for processing of sludge dumps, including:
Process engineering;

Development of technical and project documentation for production facilities (plants);

Equipment manufacture and delivery;

Performance of construction, installation and commissioning works

Warranty and post-warranty maintenance of equipment.
TREATMENT PROCESS OF RED MUD SLUDGE DUMPS PRODUCED DURING ALUMINA PRODUCTION

Reatorg offers the design and construction of enterprises for non-waste management of red mud

TECHNOLOGY PROFILE:
It is based on a combination of enrichment methods: reducing(magnetizing) roasting; polygradient magnetic separation; electric separation;

Provides a complete (100%) sludge treatment in valuable commercial products with high consumer value: metal concentrate; alumina concentrate; rare-earth concentrate (titanium oxide, zirconium oxide, scandium oxide, REE); "Ca-Si" - middling product (cement clinker);

Simple implementation provides minimization of the energy costs, high quality of commercial products.
TECHNOLOGY ALLOWS FOR:
building up modern and high-tech enterprise;

environmental improvement - "technogenic deposits" decommissioning;

non-waste production launch;

new jobs;

reduction of social tension.
Flow chart of treatment of red mud generated during alumina production
Process procedure description:
RM (Red mud) comes from the field into the hopper and further into the drying drum. The counterflow chart of heat carrier relative to the RM is implemented, which ensures efficient drying and minimum dust loss, as well as the heat recovery scheme. Cold heat carrier (dust and gas mixture) goes to the preliminary treatment in the cyclone and the final one to the electrostatic filter. Dry RM enters the drum furnace from the drum dryer, at the same time mineralizers are added to it. RM is treated at a temperature of about 1,000°C. The cinder (red mud that undergone reducing roasting) from the furnace enters the drum cooler where it is cooled to a temperature of no more than 50°C. Waste gases leaning is carried out according to the flow chart described above. The cold cinder enters multi-stage polygradient magnetic and electric separations for complete separation into various commercial products. The technology is patented.
TECHNOLOGIES AND EQUIPMENT FOR TREATMENT OF OIL SPILLS AND OIL-CONTAMINATED WASTE OF PRODUCTION FACILITIES (OIL TARS, OIL FUEL, OIL SLUDGE, ACID SLUDGE ETC.)
TECHNOLOGY OF THIN-LAYER CRACKING OF OIL RESIDUES
The technology is designed for oil residues and oil production facilities waste treatment (oil tars, asphalt, oil fuel, oil sludge, acid tar, heavy oil) into commercial products (liquid hydrocarbons, bituminous material, coke).
Technology and process implementation provide controlled thermal destruction of high molecular hydrocarbons (oil residues) at high temperature, low pressure and short process time.
The products of oil residue treatment, depending on the composition of raw materials, equipment and settings of the plant are: liquid fuel and bituminous material; coke - fuel - gases; gas-fuel.
The technology is tested in laboratory conditions and on the pilot unit.
Based on the results of testing materials for the production of the "Packaged acid sludge treatment complex" with the capacity of 10 thous. tons per year of liquid product – AGR-10 m – have been developed by Reatorg.
Technology description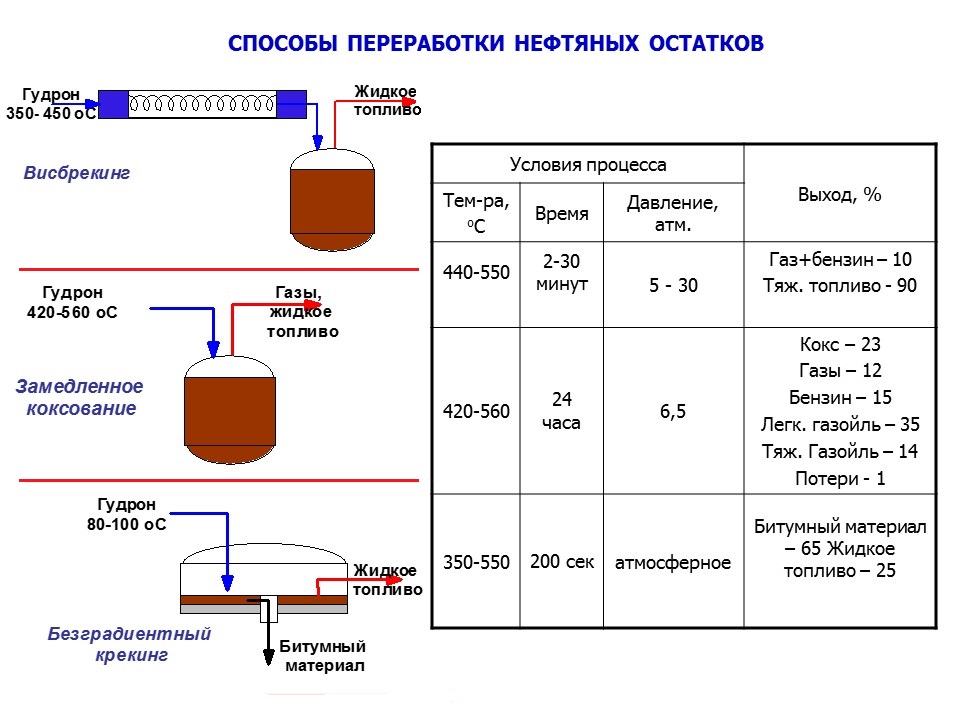 Features of technology:

The rate of heating of the liquid tar thin layer is limited by the heat transfer rate through the reactor wall;

TSC lead time depends on the temperature of the reactor wall;

The contact time of tar with the hot reactor surface;

The capacity is determined by the crack layer thickness.
Process chart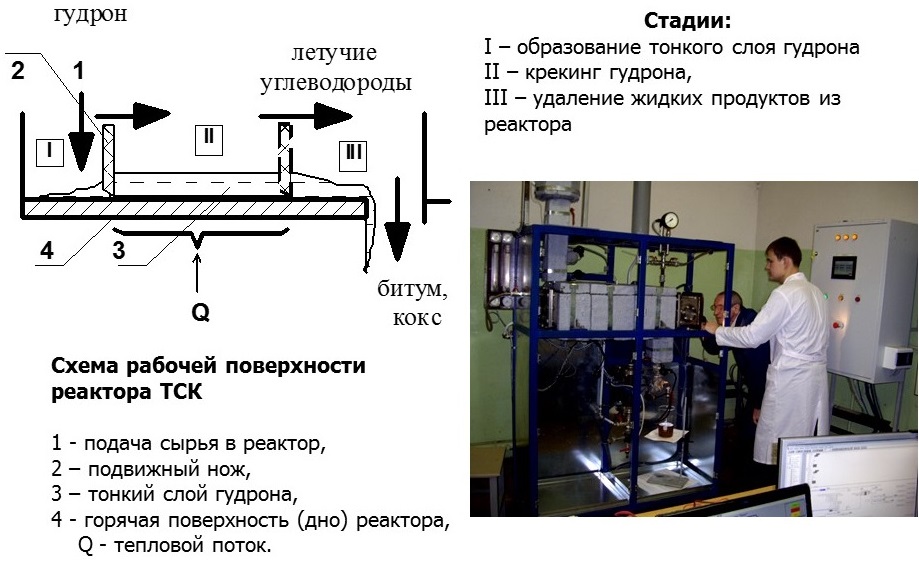 Tar and asphalt cracking conditions

Temperature - 5250С

Pressure – atmospheric

Reaction time - 180 s

Yield of gasoline and light gas oil – 20-25%;

Crack layer thickness – 3 mm
The result of cracking in a thin layer:

Polymerization and condensation reactions are significantly reduced;


Yield of light hydrocarbons increases.
General chart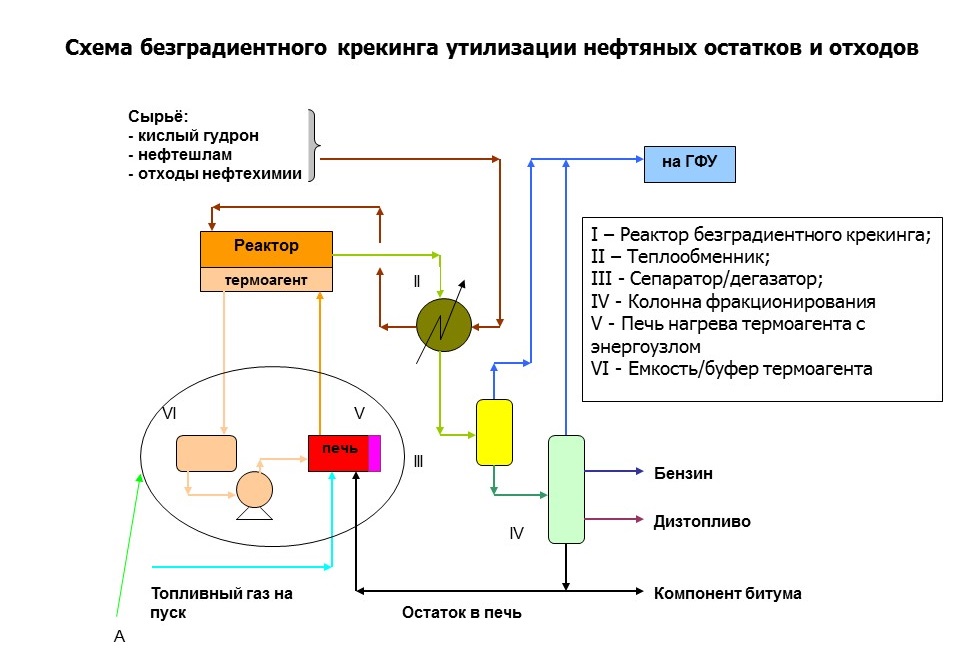 Advantages of technology
The proposed chart using thermal agent avoids the risk of coke formation in the furnace pipes;

The heat of exhaust gases is recovered with steam / el. energy generation;

The still residue is used as fuel, fuel gas is only needed for start and shutdown;

Both heavy oil residues and accumulated waste from sludge collectors of petrochemical industry and oil refining are used as a raw material;

The existing thermal cracking units (viscosity breaking) equipment is used to the maximum extent possible;

Heat treatment at a relatively low temperature (450-5500С for sludge and acid tars), elevated temperature (up to 6800С for heavier fractions);

The production of bitumen component with chemically bound sulfur will increase the plasticity of product bitumens;

The process pressure is not more than 0,15 kgf/cm2
Pilot unit based on thin-layer cracking technology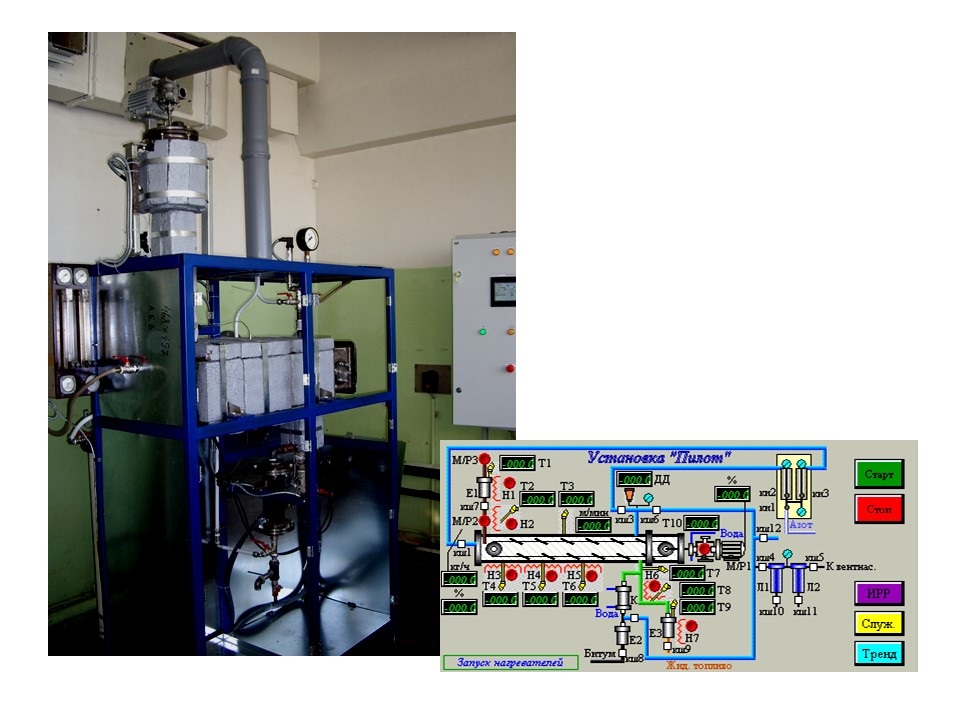 PACKAGED UNIT FOR ACID SLUDGE TREATMENT (KG) (AGR-10 M)
For the first time acid sludge (AS) was obtained as a petrochemical production waste in Russia more than 140 years ago. AS is produced in oil refineries as a by-product in the sulfuric acid refining of oils, paraffins, liquid fuels. In Russia, AS is available near each oil refinery engaged in petroleum product refining using sulfuric acid. Since then, several million tons have been accumulated which are stored in the open air in earthen storage lagoons. AS refers to the second hazard category waste and represent a serious environmental threat.
According to statistics, several million tons of AS are stored in Russia, for example, in Yaroslavl region about 500 thousand tons, in Nizhny Novgorod region – 250 thousand tons, hundreds of thousands of tons are in the Republic of Bashkirkostan, tens of thousands of tons in the Chechen Republic, Samara region, Khabarovsk territory etc.
The hydrocarbon composition of AS produced at different oil refineries differs slightly and is close enough to the sludge produced in the process of conventional oil refining. Unlike oil tar, AS contains significant amounts of sulfonic acids, including high molecular weight acids, sulfuric acid and water. AS has always been considered as a potential source of fuel and production of various useful hydrocarbon-containing products. Now hundreds of methods and dozens of attempts to implement the technology of AS treatment in commercial products are known. All these developments have not found any appreciable industrial application.
Numerous attempts to use acid sludge were mainly aimed at obtaining binding agents for asphaltic concrete and building materials, as well as additives for solid fuel. Technologies of acid sludge recycling in low-grade liquid fuel are also known. These technologies come down to the neutralization of acids in sludge and adding of additives that perform different functions; only a small number of publications are focused on thermal methods for AS gasification.
Failures in the development of numerous proposals for the disposal of acid sludge are mainly due to the fact that acid sludge from different production facilities are characterized by a set of its own chemical and physical properties, that change in time due to the reaction of organic components with sulfuric acid and ambient oxygen, and therefore require in each individual case the individual approach and reconfiguration of the process. In addition, there is no integrated approach to treatment of all acid sludge components: organic components, sulfonic acids and sulfuric acid in commercial products.
The appropriate solution to the AS recovery in commercial products is AS controlled cracking. Depending on the AS cracking conditions, liquid fuel and coke, liquid fuel and bituminous material may be produced.The State University of Nizhny Novgorod named after N.I. Lobachevsky (SUNN) employees and Reatorg LLC conducted extensive research on AS cracking. Methods of production, as well as AS cracking units design are patented. The technology of commercial products production from AS by the controlled cracking method was tested in pilot units. The technology is suitable for treatment of other oil-contaminated waste (straight-run sludge, oil sludge, etc.).
Based on the AS controlled cracking research results the project of stationary plant with the capacity of 5,000 tons per year for Nizhny Novgorod AS treatment into liquid fuel and coke and the detailed project of reactor package with a capacity of 10,000 tons per year for the production of liquid fuel and bituminous material from AS were carried out.
Reatorg offers for realization the "Packaged acid sludge treatment plant" (AGR-10m) with a capacity of 10,000 tons per year for products. The products are boiler fuel and bituminous material.
PURPOSE
"Packaged acid sludge treatment plant" (AGR -10m) is designed for acid sludge (AS) treatment in containment ponds, in commercial products with a capacity of 10,000 tons per year. The result of AS treatment depending on the composition of raw materials and plant setup are liquid fuel and bituminous material (binding agent in asphalt concrete). The ratio of fuel oil and bituminous materials produced depends on the composition and AS cracking conditions.
The boiler fuel meets the requirements of GOST 10585-99. Oil fuel. Mazut.
Based on the bituminous material produced on the proposed plant, bitumens for different applications can be prepared:
GOST 22245-90. Viscous petroleum road bitumens.

GOST 11955-82. Liquid petroleum road bitumens. Specifications.

GOST 6617-76. Petroleum construction bitumens. Specifications.

GOST 9548-74. Roofing petroleum bitumens. Specifications.

GOST 9812-74. Petroleum insulating bitumens. Specifications.
OPERATING PRINCIPLES

AGR-10m plant consists of process modules. A certain technological stage of the AS treatment process is carried out in each module (or plant). The operating procedure of modules is based on the principle of continuous AS cracking reactor operation in the optimal mode.
The technology of AS treatment on the plant includes the following stages:
AS extraction from the pond and transportation to the production site;

treatment (neutralization) of sludge from sulfuric acid and mechanical impurities;

dehydration of acid sludge;

cracking of neutralized sludge in the original reactor into liquid fuel and bituminous material;

stabilization of products.
PLANT CONFIGURATION
The plant consists of the following functional units (process units, complex of devices):
1. AS reception, neutralization and dehydration unit.
The unit consists of the tank farm. AS is heated, neutralized and dried in the tank farm reservoirs. The tank farm provides continuous operation of the reactor section at a rate of
40 tons per day.
2. Reactor section and related units:
package of supply tanks and bitumen dosing pumps;

reactor for controlled AS cracking with safety and service systems. The reactor is a device made of stainless steel with dimensions of 2500х1200х1500 with jacket, high temperature fluid and electric motor;

cracking products separation unit into exhaust gases, liquid fuel and bitumen;

exhaust gas cleaning unit from sulphur dioxide and hydrogen sulphide.
3. Plant automated control and emergency shut down system.
4. Tank farm for the reception and distribution of products: liquid fuel and bitumen.
5. Power unit package consisting of:
nitrogen gas supply unit;

mobile boiler plant (two plants) with a capacity of 0.5 t/h of steam;

heat carrier heating station;

diesel engine power plant with a capacity of 200 kW.
PERFORMANCE CHARACTERISTICS
plant is located near the sources of raw materials;

modules and units of the plant are transported by road;

mounting, dismounting of the plant is carried out within a week in case of minimum volume of site preparation works;

energy independence;

ramp-up to the predefined mode within 2 days;

high reliability due to the course of processes under atmospheric pressure and innovative process solutions;

high degree of process automation;

automatic emergency shut down;

minimum number of staff for twenty-four hour operation.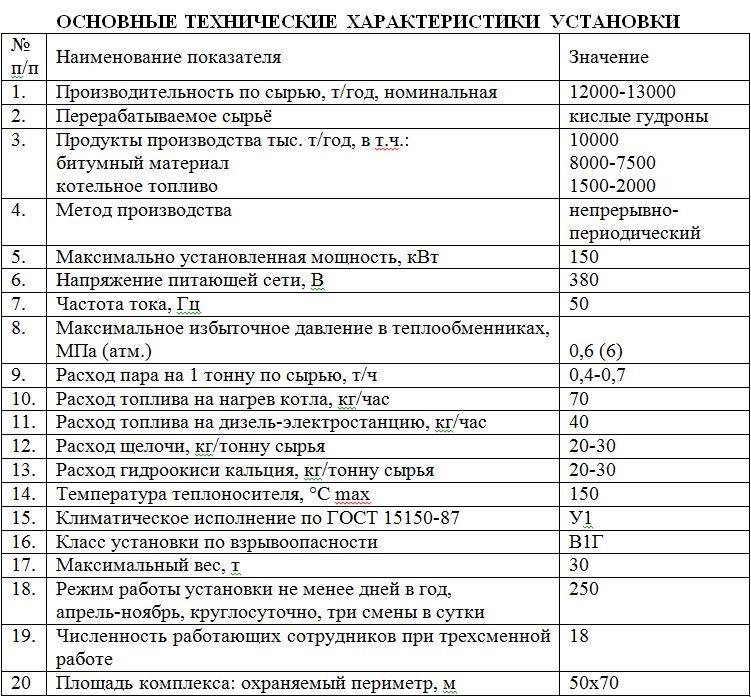 ENVIRONMENTAL PLANT PERFORMANCE
Special process solutions are used in the plant, which eliminate the possibility of leakage of processed products. The complex is equipped with facilities for treatment of gas emission from toxic pollutants, has recycling water supply and meets all the requirements of sanitary standards for this equipment.
The main source of noxious emissions into the atmosphere is the steam power unit.
The technology ensures the implementation of SanPiN 11-09-94 "Sanitary rules for organization of production processes structure and hygienic requirements for production equipment", SanPiN 2.2.1/2.1.1.1031-01 "Sanitary protection zones and sanitary classification of factories, structures, and other facilities" and PB 09-563-03 "Industrial safety regulations for oil refineries".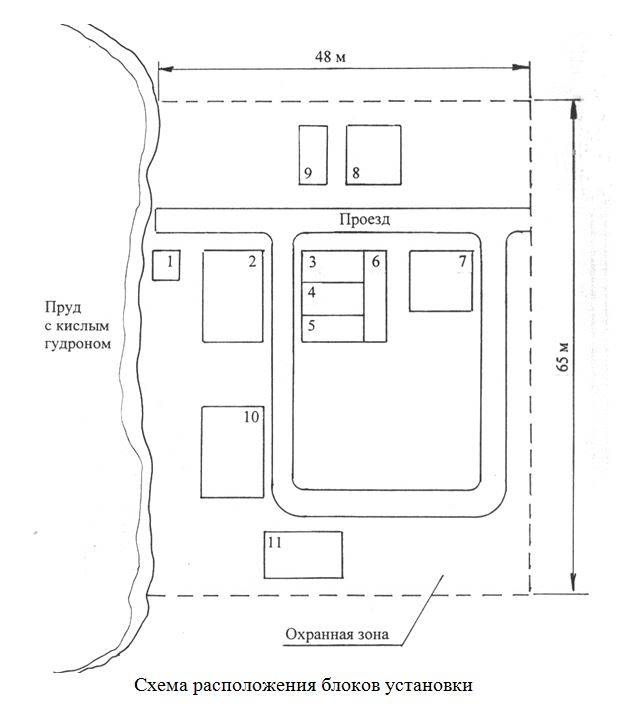 1. Unit for acid sludge extraction from the pond;
2. Capacity for acid sludge;
3. Acid sludge neutralization unit;
4. Reactor section;
5. Exhaust gases and fuel cleaning unit;
6. Pump unit package;
7. Commercial product warehouse;
8. Modules (laboratory, control and monitoring of the unit, amenity);
9. Chemical depot;
10. Water recycling system and fire tank;
11. Power supply unit (boiler room, diesel generator, fuel tanks).
INFORMATION ON ACID SLUDGE TREATMENT PROCESS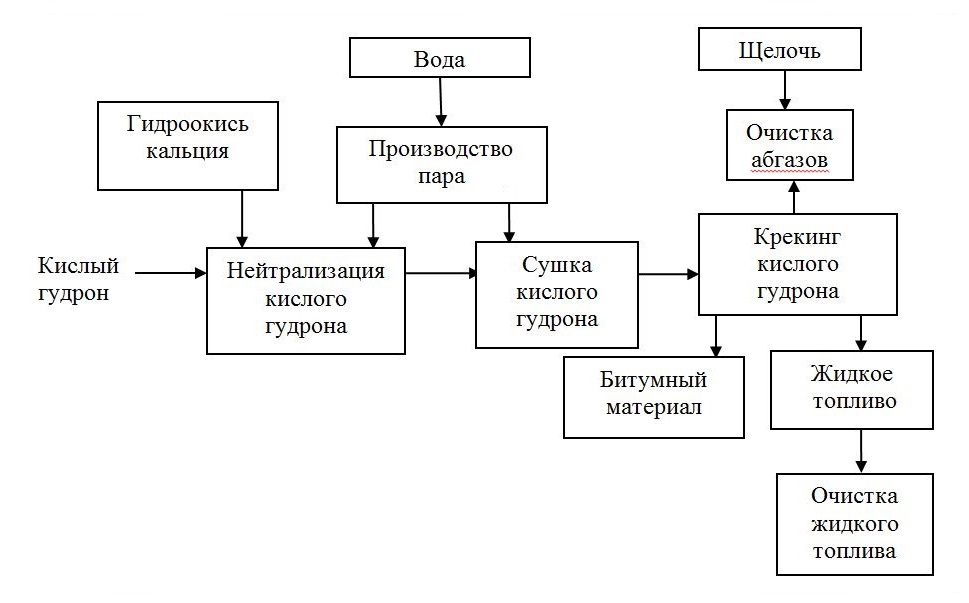 Schematic diagram of acid sludge treatment with conversion in bitumen.
AS treatment process
AS treatment is carried out on the plant with a capacity of 10,000 tons per year of bitumen and liquid fuel. Operating mode is 250 days a year, round the clock. AS treatment is as follows.
AS is extracted from the pond by means of pumps or an excavator and transported to AS treatment unit from sulfuric acid.
AS treatment from sulfuric acid is carried out using solution of calcium hydroxide with gypsum generation.
The neutralized acid sludge is dehydrated and sent to the cracking reactor to obtain the target products. Bituminous material, liquid fuel and exhaust gases are formed in the reactor during AS cracking. At the reactor outlet these products are separated and cooled. Exhaust gases are sent to the scrubber for sulfur dioxide removal, and liquid fuel for mercaptan removal.
Based on the proven and tested engineering solutions, Reatorg is ready to develop and produce the AS treatment plants of different capacities to the needs of a particular customer.
MOBILE PACKAGE OF UNITS FOR OIL SLUDGE TREATMENT (OSU-10 M)
The unit is designed for treatment and neutralization of liquid, solid and mixed oil sludges and oil contaminated soils, with different content of hydrocarbons, mechanical impurities and water. It can be used in enterprises of the oil-producing, oil-refining and petrochemical industries, as well as in enterprises where liquid, solid and mixed oil-contaminated wastes are produced and stored, for the purpose of their treatment and neutralization in order to ensure the environmental safety of these industries. The unit ensures the treatment of oil sludge of any composition and physical state.
The main stages and equipment of the unit:
hydromechanical treatment of liquid and solid oil sludge (extraction of hydrocarbons using hot water from oil sludge) - a set of shale shakers is used

separation of water-oil pulp with receiving liquid fuel – "Alfa-Laval" three phase decanter is used

thermal neutralization of solid oil sludge – a drum furnace with flue gas cleaning system is used
Diagram of implemented processes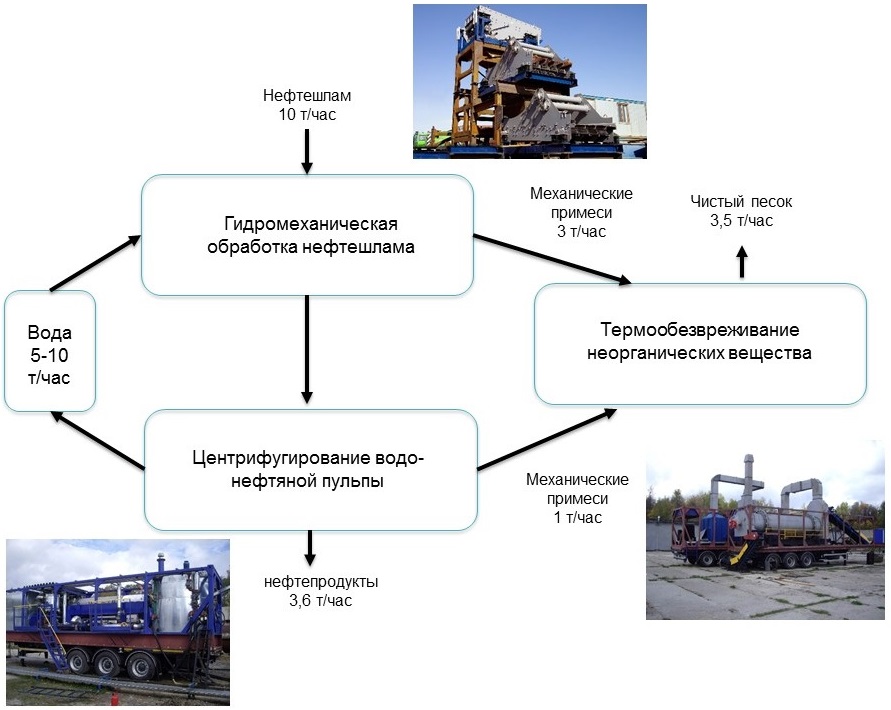 Technical characteristics of mobile unit
1. Unit capacity:
- for liquid oil sludge, m
3
/h; 10
- for solid and mixed oil sludge, t/h not more than 6
2. Power consumption of the unit, kW not more than 215
3. Steam flow consumption for unit needs, kg/h not more than 500
4. Water vapor properties,
0
С 150
5. Number of 40-foot containers, pcs 6
6. Dimensions of site for unit installation deployment, m 30х50/20х60
7. Feedstock characteristic (oil products content) 5-90
8. Unit performance:
U1 group of climatic modification UHL 4
ambient temperature,
0
С +5 - +40
9. Operating mode of the Units – around the clock, in the warm season 200 days
Equipment of mobile unit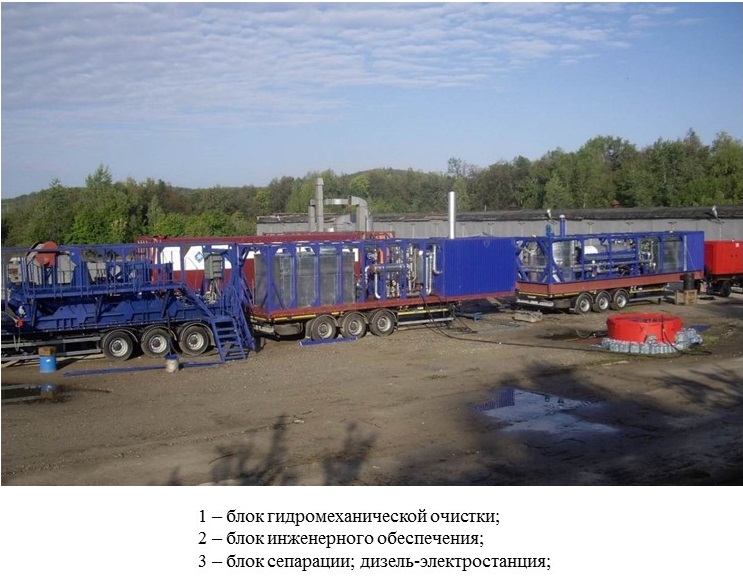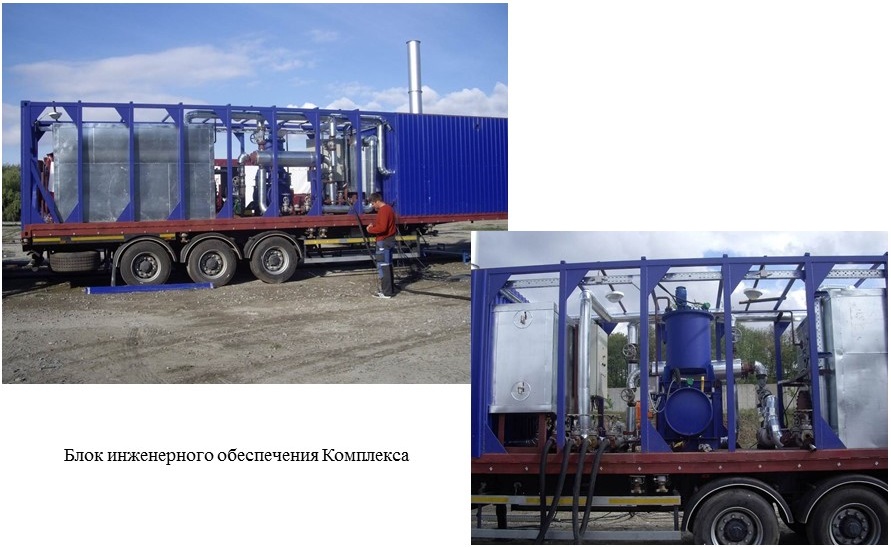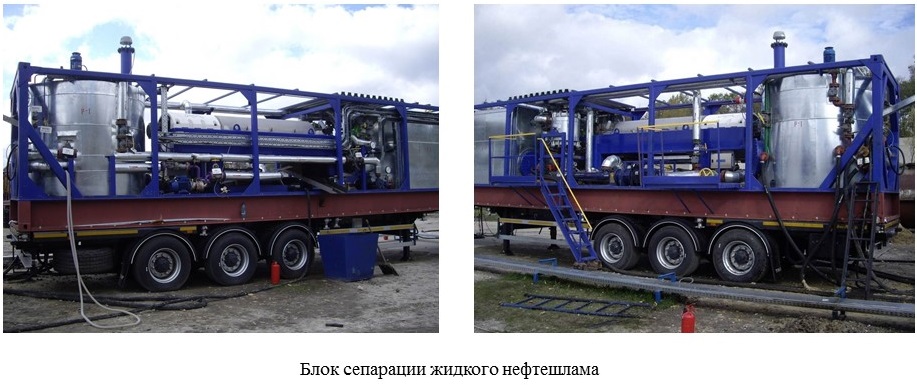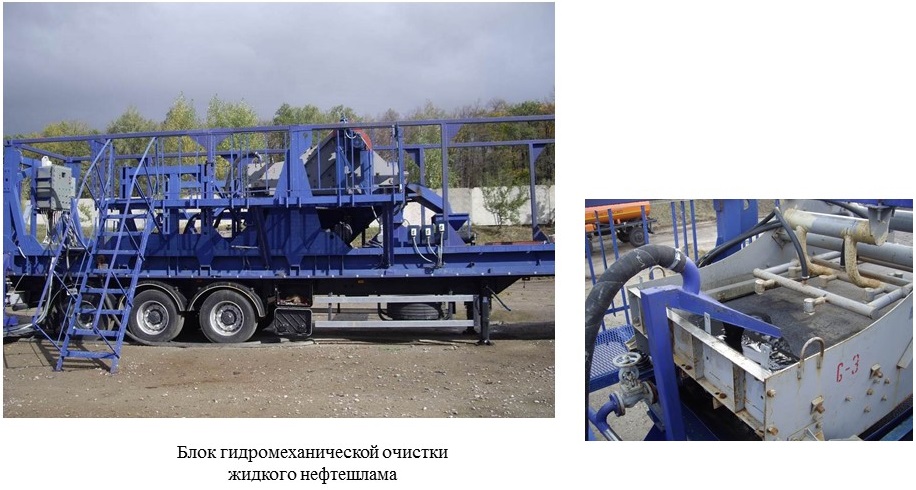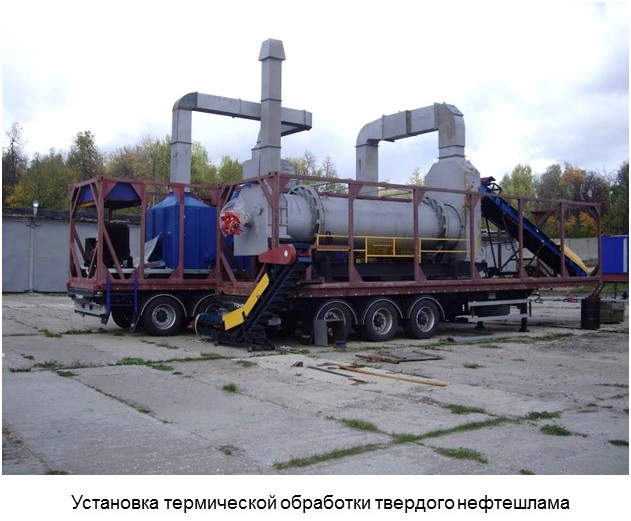 Mobile unit configuration
1. Oil sludge hydraulic-mechanical treatment unit:
vibrating screens, pumps, oil sludge loading and unloading unit;
2. Separation unit:
Alfa-Laval three phase decanter, tank farm, pumps flocculant preparation unit;
3. Energy carrier supply unit:
boiler room, heat exchangers, tank with recycled water, pumps;
4. Solid oil sludge thermal neutralization unit:
drum furnace, afterburner, flue gas cleaning system, solids loading and unloading unit;
5. Power supply and control unit:
diesel engine power plant, panel APCS.
Units 2-5 are located on semi-trailers in 40-foot containers.

Solid oil sludge thermal neutralization unit on platforms (UZG-1M)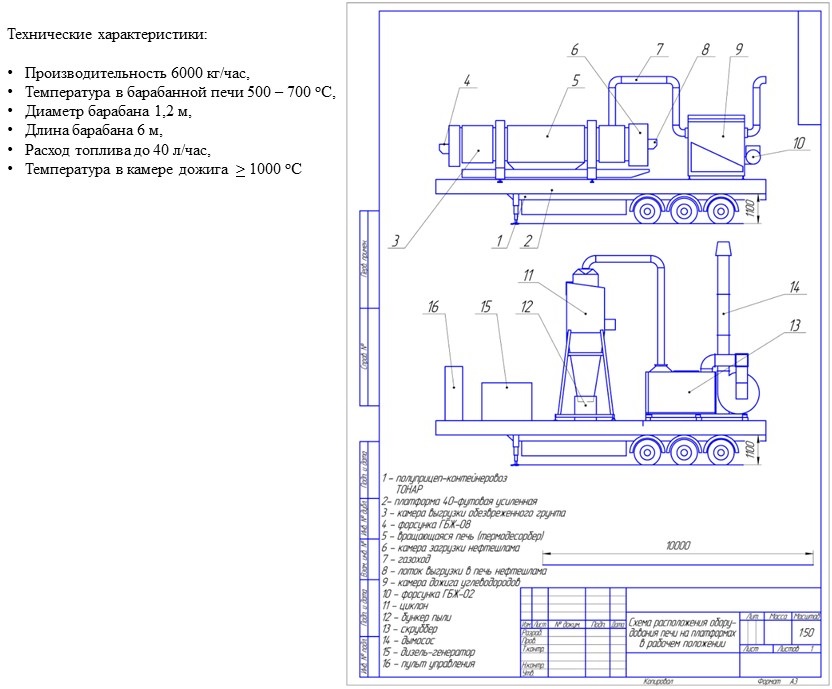 The oil sludge treatment unit allows implementing a full cycle of treatment both liquid and solid oil sludge with the production of commercial liquid fuel and thermally neutralized soil (5 hazard class for the environment) suitable for soil remediation.
Based on the proven and tested engineering solutions, the Company is ready to develop and produce the oil sludge treatment plants of different capacities to the needs of a particular customer.