Water supply to industrial enterprises is one of the important production tasks. In the vast majority of industries, water is used in production processes. The feed water quality and quantity requirements are determined by the nature of production process. The fulfillment of these requirements by the water supply system ensures the smooth functioning of the enterprise and the proper quality of output products. Improper operation of water supply systems not only causes deterioration in the product quality or increase in the costs of production, but in some cases damage to equipment and even to dangerous accidents. In addition to process water, each enterprise requires sanitary and drinking water for workers and employees, as well as for fire extinguishing purposes.
Water is used in the industrial production for raw materials or equipment washing, as well as in the finished-product output processes. Industrial wastewater is very specific and often forms complex multicomponent mixtures that are difficult to remove and often interfere with each other when they are removed from the effluent. This is animal and vegetable fats and oils, medullated fibers, blood, syrups, brines, dyes, flavor enhancers, preservatives and much more. The industrial wastewater treatment in accordance with standards is carried out due to the selection of the best treatment technology, selection of high-performance engineering environmental equipment, filter elements and chemical reagents based on the results of qualitative test of the effluents generated in the enterprise.
Environmental requirements for wastewater discharged are getting tougher every year at the Government's initiative. However, many enterprises continue to ignore such restrictions: poor-quality water treatment, or fails to do so in principle. In the process of any industrial enterprise operation waste waters are generated and require special treatment before discharge into sewage collection systems. Waste water from any industrial enterprise contains specific contaminants that must be removed (neutralized) before mixing with effluents from another production or settlement. Vast experience of the advanced countries has shown the possibility of implementing zero-discharge systems through the reuse of treated waste water. The treated wastewater reuse in the industrial water supply system fully depends on the specific local conditions, technologies used and is mainly determined by its feasibility and practicability. Many large enterprises have factory treatment facilities, with mechanical, physical-and-chemical and biological treatment units. However, for the most part, such systems are essentially outdated. In this situation, water with a high content of phosphorus, nitrogen, bacteria and other organics gets into the water bodies, which results in the environmental degradation of a particular region. Industrial water treatment along with the process of water conditioning is a very complex and time-consuming procedure due to the poor quality of water resources in most regions of the country. The introduction of recycling water systems can reduce the amount of discharged waste water and the demand for fresh water, which gives a significant economic and environmental impact. This system of the enterprise excludes the ingress of industrial wastewater in the water bodies or sewage collection systems. It allows to solve the most important ecological and economic problems: significantly reduce the water consumption of an industrial enterprise, reduce the loss of valuable components with wastewater, avoid charges for water discharge and excess of the maximum allowable concentrations - the proposed process water treatment systems allow reusing it in the process cycle.
Industrial water treatment is a special process, in which various kinds of impurities, which are a direct threat to human health and production technologies are removed. The industrial water treatment technology practically does not differ from household water treatment. The main feature is the system scale, that is, volumes of the liquid to be filtered. Industrial water treatment is necessary for enterprises of a wide variety of industries, such as: chemical industry; gas, petroleum and petrochemical industry; food industry; pharmacological production; transport infrastructure.

Water conditioning means the water treatment to bring it in compliance with certain user requirements. The terms are similar at first sight, however, water conditioning on industrial scale is used to produce water required by specific production processes. During the industrial water treatment, extraneous impurities are removed, or water is enriched with the necessary salts to improve its qualitative indicators. Subsequently, treated water is directed to the technology.
If you require, do not look for readily available solutions - they do not exist. The selection of technology and specific equipment is always tailor-made. The combination of various methods and technologies is necessary in order to achieve the highest quality of industrial treatment. This is the work of specialists who design water treatment systems based on data of the initial water condition, task assigned, and other factors.
Industrial water treatment is the area of activity of our Company. We design water supply systems, we are engaged in the equipment selection, as well as the supply of water treatment systems for the industrial facilities waste water treatment. Projects implemented with the participation of our partners for the industrial facilities waste water treatment were brought to a successful conclusion. We deal with orders of different complexity and apply the state-of-the-art technologies for each specific task from ordinary clarification to chemical desalination and reactant water treatment.
The company has its own innovative technologies for biological, nonchemical and reactant treatment of industrial waste water and storm water run-offs and domestic water, including those based on the most commonly used method of water treatment in industry - industrial reverse osmosis.
All water treatment systems developed by our company are made using both own technologies and equipment from leading domestic manufacturers and have the highest qualitative characteristics and operational reliability, accordingly.
Reatorg is ready to cope with any task, as illustrated by the long list of customers and their positive feedback on the work we have done.
The company offers the following workpackage:
Pre-project inspection of facilities;

Process development for industrial water treatment, water conditioning, biological treatment;

Design and consulting;

New construction and reconstruction of wastewater treatment plants;

Manufacturing, assembly, testing of systems, commissioning of the facility "on a turn-key basis";

Warranty and post-warranty maintenance.
REATORG is engaged in the waste water treatment from household and industrial sectors. Waste water treatment of industrial enterprises, cleaning equipment manufacturing, design and construction of treatment facilities and units is the main area of activity of the Company.

The Company specializes in the field of engineering and manufacturing of industrial equipment for water conditioning and effluent treatment in Russia and the CIS.
The principal activities of the Company is focused on preparation of process water, treatment of industrial wastewater, creation of closed water supply cycles and cooling circuits, production of drinking water.
Company's business is based on an individual approach to the solution of process tasks for water conditioning and implementation of turnkey projects, including design, construction, installation and commissioning works.
We manufacture waste water treatment equipment of different types: storm (surface) run-offs; domestic wastewater; wastewater discharges from industrial facilities (sugar plants, meat processing plants, flour mills, distilling plants, fruits and vegetables processing plants, dairy industry, other industrial enterprises).
OUR SKILLS
Engineering; Design; Supply of equipment; Installation; Commissioning; Components; Service maintenance
WHAT WE OFFER
The water conditioning system engineering involves several stages:
Audit or collection of baseline data, as well as the examination of installation site, possible location of equipment.

The process scheme development that ensures the required quality water treatment using the latest developments in the field of water conditioning.

Selection of equipment, based on the characteristics, geometry, size, cost and requirements specified by technologists.

Preparation of project documentation and installation drawings. The documentation includes equipment layout plans, the development of metal frame structures, all necessary drawings, plans, sections, and specifications.
THE BASIS FOR HIGHQUALITY WORK
Proprietary water conditioning technologies

Manufacture of water conditioning plants from western or domestic components

Iron removal systems

Packaged modular systems

Reverse osmosis systems

Microfiltration systems

Sorption systems

Aeration systems

Chemical dosing systems

Softening plants

Ion exchangers

Ultrafiltration plants

Lighting filters

Ultraviolet disinfection plants

Capacitive equipment
SOLUTIONS AND TECHNOLOGIES OFFERED BY THE COMPANY
INDUSTRIAL WASTEWATER TREATMENT
In the field of water supply, Reatorg LLC has developed a number of technologies for water treatment and conditioning for process and drinking use.
Wastewater treatment methods:
Mechanical treatment

Physical and chemical treatment

Biological treatment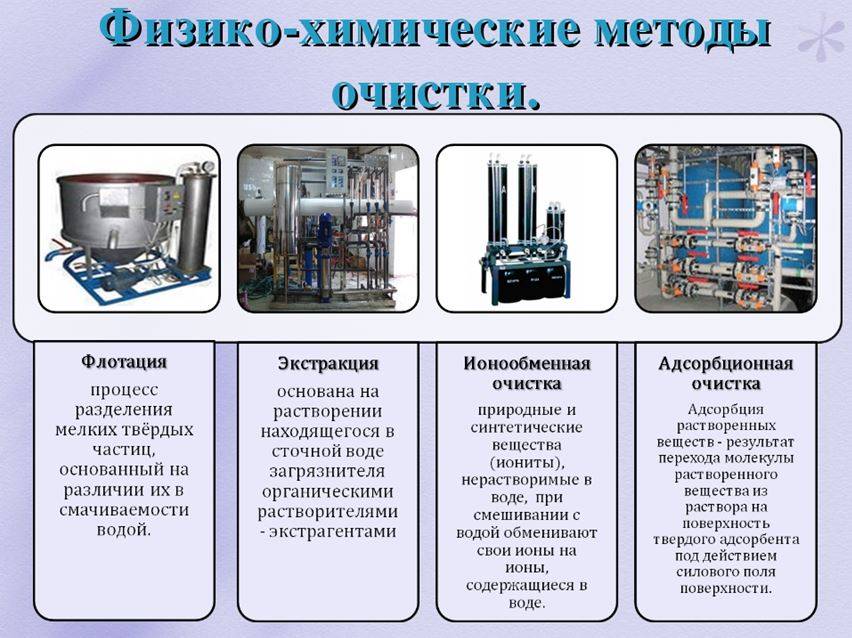 TECHNOLOGIES AND EQUIPMENT

The biological treatment technology consists in the application of new principles for the formation and functioning of activated sludge biocenosis, which improves the efficiency of biological treatment of organic impurities. Due to repeated recirculation of the mixed liquor, the amount of discharge sludge decreases, rendering its processing system more cost and time-effective. For the purpose of neutralizing treated effluents, the nonchemical UV treatment is carried out on series-produced apparatuses or safe reactant treatment using chlorine products. Treated and neutralized water meets the established discharge standards into surface water bodies for fishery purposes according to the content of contaminants.

Treatment facilities are complex of engineering structures in the sewerage system of populated areas and industrial plants intended for the waste water treatment from the contaminants contained therein. At any stage of waste water treatment, characteristic unpleasant odors may be released. As a rule it is the smell of hydrogen sulfide (H2S), since its perception threshold is much lower than the MPC level.

Due to the fact that treatment plants have many both controlled and uncontrolled sources of unpleasant odors located on a sufficiently large area, the problem of odor neutralization from treatment plants requires the package approach. Different technologies are often used for the unpleasant odor removal in aggregate: classical methods of air cleaning at the controlled sources, application of technology of atmospheric exposure and reactant treatment of uncontrolled sources of unpleasant odors.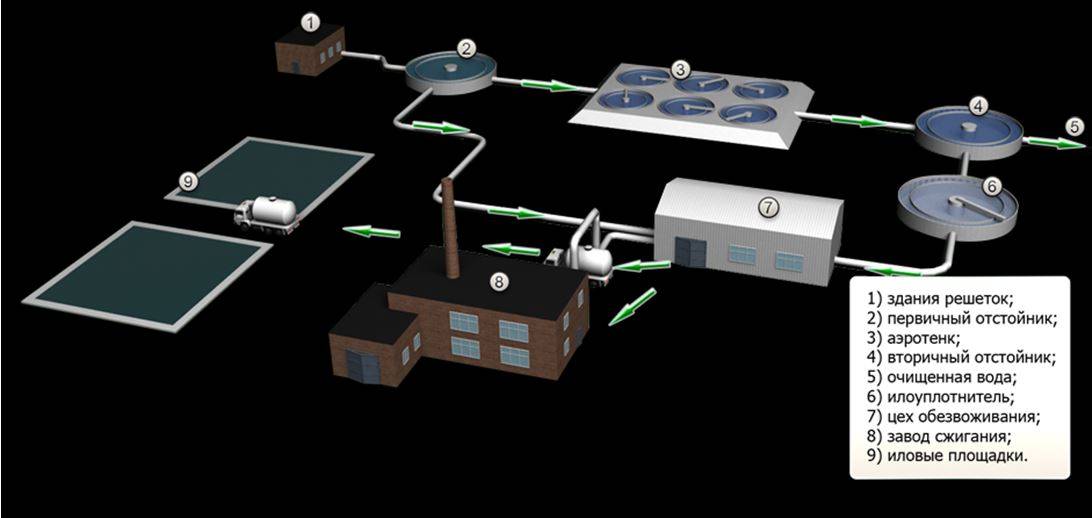 The treatment facilities are manufactured and supplied to the customer in full operational readiness. Treated water meets the requirements of environmental safety. The capacity of treatment facilities is from 50 to 25,000 m3/day and more.
Sewage treatment facilities have been successfully designed, built and used in the Moscow, Bryansk, Saratov, Penza, Kurgan, Kaliningrad and Sverdlovsk regions and in the Udmurt Republic using our technologies.
Wastewater treatment plant Block-modular design of the plant
with a capacity of 1000 m
3
/day
of wastewater treatment

The multi-modal plants
Biological treatment unit
LAZUR M-250KA, with a capacity up to
with a capacity 500 m
3
/day
2000m3/hour for drinking water disinfection
Compact, highly efficient packaged units are offered for local storm water and other wastewater treatment systems and water conditioning systems. At the first stage, the flotation method is implemented. At the same time, the treatment from different impurities such as: suspended substances, oil products, heavy metals, greases, etc. is carried out. The treated wastewater can be reused in the process water supply systems of the facilities, which ensures the closed water supply cycle.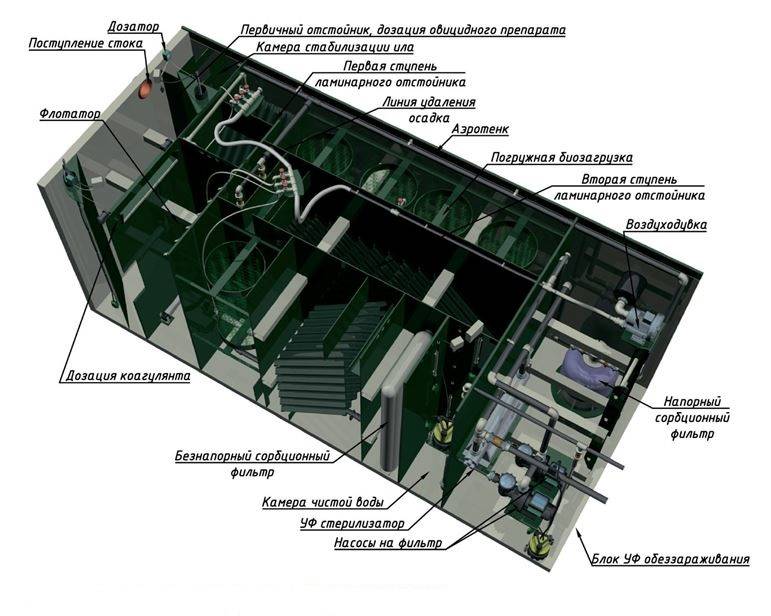 General packaged unit diagram
Wastewater treatment plant


PROCESS WATER TREATMENT (water conditioning)
The Company carries out a package of works on process water treatment, including:
Design and construction of water treatment plants: softening, color reduction, removal of iron, fluorine, arsenic, strontium, radionuclides, etc.

Nonchemical process water treatment technology, including boiler water;

Provision of water treatment plants with reagents (chemicals for reverse osmosis plants, sludge inhibitors, detergent solutions).
We offer systems for:
Effluent neutralization;

Deferrization of water;

Water softeners;

Iron and hardness removal systems;

Odor removal systems;

Water treatment systems for pharmaceutical production.
Reatorg company equipment will ensure the high-quality water treatment from undesirable components, make it safe for use in technology.
Each plant undergoes a thorough quality control, has warranty service. Company specialists will select the equipment for each customer, and also advise additional treatment means. The cost of process water treatment system in the company is available to all citizens.
Examples of water conditioning solutions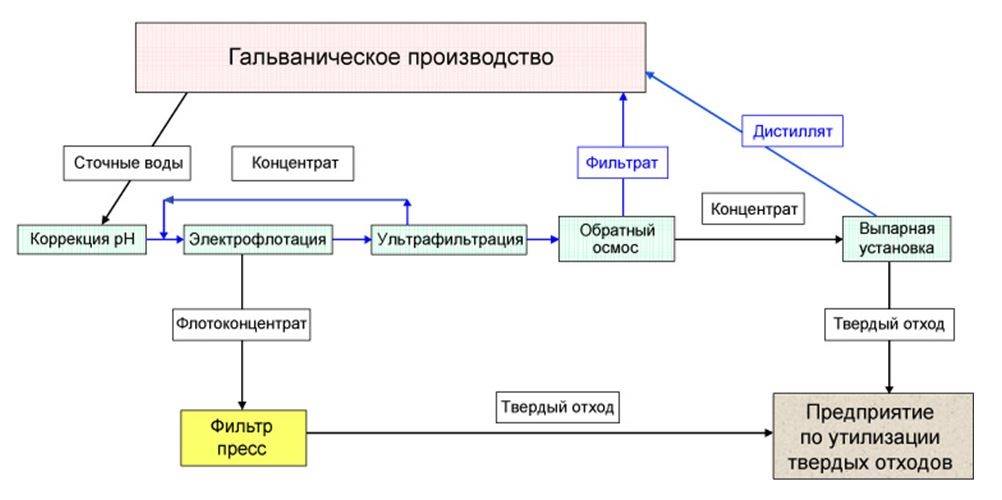 General flow chart of wastewater treatment of electroplating industry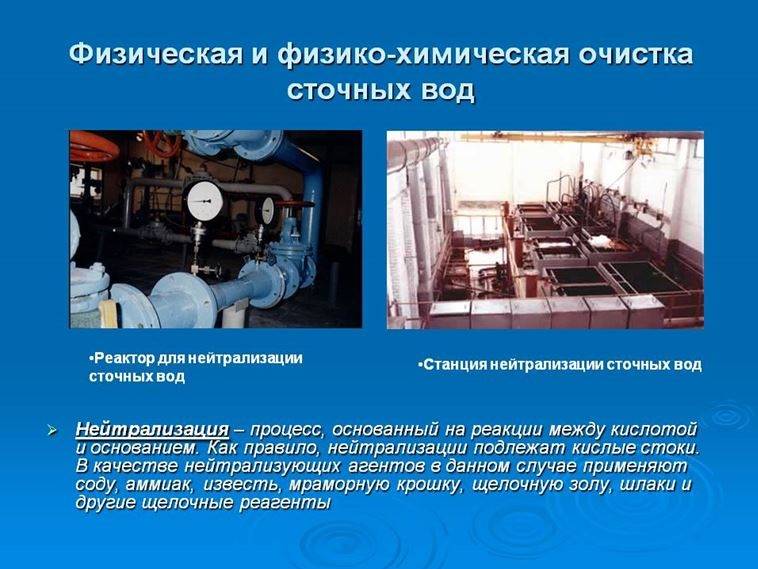 Effluents neutralization plant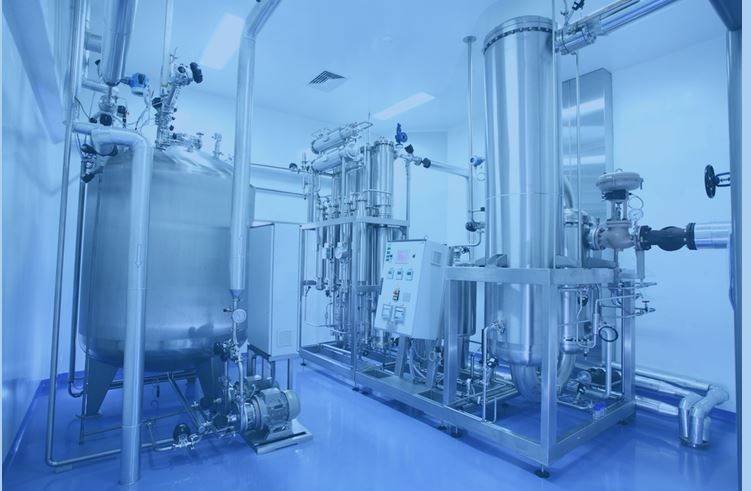 Water treatment plant for pharmaceutical production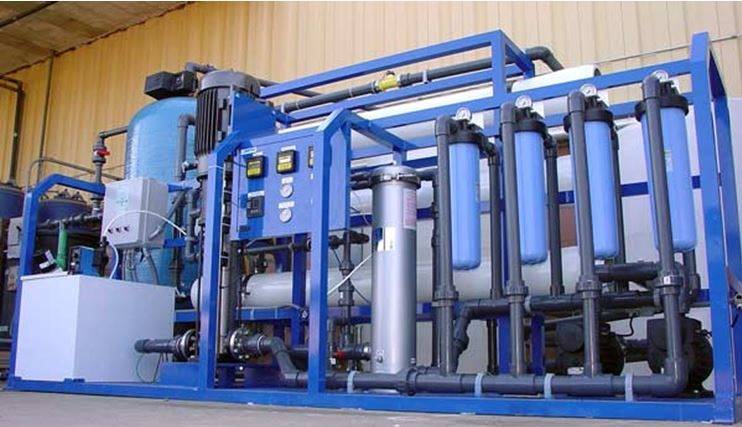 Membrane unit for boiler water treatment (iron and hardness removal)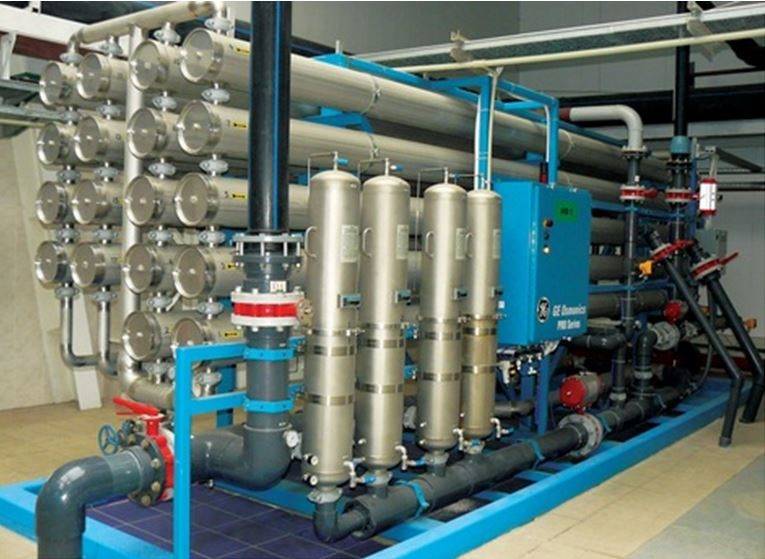 Water deferrization plant using sorbent

(sorbent regeneration is carried out by reverse current)
DRINKING WATER TREATMENT
In this direction the Company offers:
Development of nonchemical technology and supply of equipment for surface and groundwater treatment to drinking-quality standards, in particular, by iron ions;

Design and construction of water works;

Creation of local systems for individual and collective use;

Drinking water treatment processes and equipment upgrading for the implementation of water supply system.
Reatorg LLC equipment will ensure high-quality water treatment from an unpleasant odor, make it safe for human consumption. Each plant undergoes a thorough quality control, has warranty service. Company specialists will select the equipment for each customer, and also advise additional filtering tools. The cost of water filtering system from odor in the company is available to all citizens.
The main methods of water treatment from underground, surface water sources for drinking and production needs (including recycled water) used by REATORG are:
Nonchemical water treatment.
NWT units are intended for drinking water treatment in accordance with the requirements of SanPiN 2.1.4.1074-01 "Drinking water. Hygienic requirements for water quality of centralized drinking water supply systems. Quality Control". The technology used includes clarification, discoloration, softening, improving the organoleptic properties of water and disinfection.
Technological stages of water treatment (NWT)
Pretreatment from particulate pollutants;

Aeration, ozonation;

Filtration through catalytic loading;

Adsorption on activated carbon;

Disinfection by UV irradiation;

Water degassing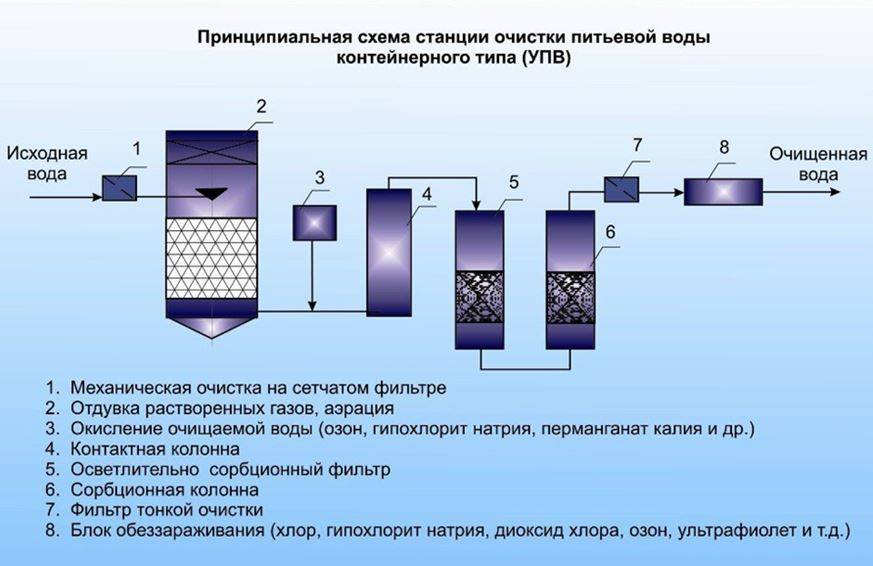 The individual complex treatment method and selection of modern energy saving and small-sized equipment is the basis for NWT process solutions. A high degree of treatment and stable quality of drinking water is achieved by intensifying the nonchemical treatment method (increase of filter cycle up to several months) using a highly effective natural catalytical material. The use of catalytic loading allows simultaneous clarification, decolorization and deironing of water in one apparatus. All filter materials used are chemically stable and biologically inert, do not contain and do not release any biologically active agents into the filtrate water. The reverse osmosis technology is not used in the proposed scheme, therefore the composition of mineral salts necessary for the human body created by nature under natural conditions is not damaged in water. The plant is adapted for water treatment from practically any freshwater bodies, artesian wells, decentralized water supply systems.
Complete absence of toxic waste discharge into the environment.
Absence of chemical agents in the water treatment, and chemical plants and storages, accordingly.
Ultra-long cycle length.
Significant reduction in operating costs and production area.
Improvement of working conditions (absence of toxic acid dust in the production environment).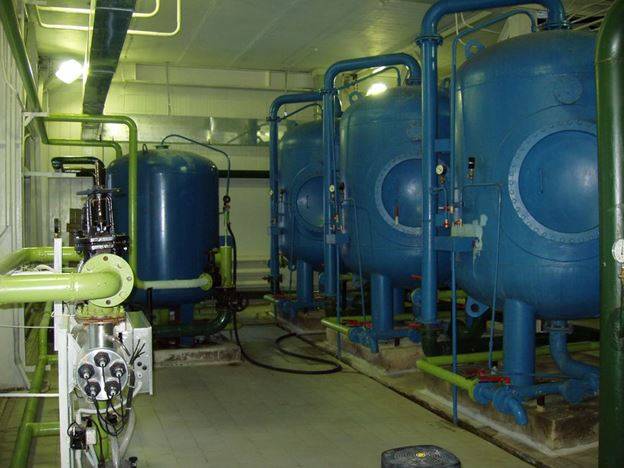 Ultrafiltration is a membrane process that falls in between nanofiltration and microfiltration. The ultrafiltration membranes have a pore size from 20 to 1,000 E (or 0.002 to 0.1 μm).
Ensures:
Complete removal of suspended substances (less than 0.5 mg/l)
Complete removal of colloidal suspensions
Removal of organic and inorganic substances with a molecular size greater than the pores of membranes
Removal of microorganisms: viruses, bacteria (99.9%)
Complete removal of oil products (OP)
High water quality as the basis for reverse osmosis (silt density index SDI is less than 3.0).
The advantages of nonchemical water treatment (NWT) over conventional
The principle of ultrafiltration is used in this technology – a membrane process that enables to entrap particles from 0.002 to 0.1 μm (20-1,000Е) and completely removes suspended substances. Also ultrafiltration removes microorganisms and viruses, oil products and colloidal suspensions. In reverse osmosis water enters with SDI index of not more than 3.0.
Three NWT key benefits:
Zero contaminants discharge into the environment
There are no reagents, so there is no need to store them and take into account.
Long lifetime of aggregates, filters and replaceable parts.
Ultrafiltration methods can be used for water treatment from well, industrial water, water treatment, improvement in the quality of water for fish farms and natural protected areas. At the same time, the system is compact and may occupy an area of 2 mq.
Reverse osmosis can be one of the system elements or the only filter of the cycle, if the water at the inlet is clean enough, for example from a well. During treatment process, water passes under pressure through semi-permeable membranes, on which 99.9% of organic impurities and metal salts remain. Also, reverse osmosis traps radionuclides, microflora and salts, which improves the quality of sea water to drinking water.
MANURE TREATMENT OF LIVESTOCK COMPLEXES (SLAUGHTERHOUSES AND PROCESSING MEAT)
When considering the disposal of manure from livestock farms, the manure separation scheme is most often used, followed by the storage of the liquid fraction in "Lagoons" with subsequent spreading (1 year after settling) in the fields. This scheme, with a relatively low one-off construction costs, has many subsequent shortcomings, including operational costs, namely:
The liquid fraction spreading rates (settled for 1 year) are 5-7 tons per hectare per year. Depending on the crops grown in the fields (feed or cereal crop). Thus, the amount of liquid fraction of manure spread in the fields is limited by the available territories.

The period of spreading is limited by the season.

Transportation of liquid fraction of manure to the fields is carried out by hose systems, which have a number of restrictions on distance and spread uniformity in the fields. Also, hose systems can not be used all year round.

The need for park fleet arises (barrels, terragators, etc.) to spread the liquid fraction of manure in the fields. In turn, the spread of the liquid fraction of manure by car drums is limited by the season and has the expense portion for fuel and lubricants, wages of drivers and repair base.
The storage conditions of the liquid fraction of manure in the "Lagoons" also have many disadvantages. The polymeric film of the "Lagoon" bottom is fragile, not durable, without resistance against swelling and ground water discharge under the "Lagoon".
REATORG LLC offers the flow chart that enables treatment of manure using a technology that allows bringing the degree of manure treatment to the requirements for discharge into the fishery water bodies. It allows excluding storage and spreading of separated waste water in the fields from the operating costs of livestock complexes. The discharge of treated waste water in the water body can be made all year round.
FLOW CHART
The discharge from livestock farms, as well as slaughterhouses is formed from several sources:
Manure discharge, directly;

Discharge from slaughter shops;

Manure containing discharge (from spaces of pre-slaughter handling of pigs);

Car wash discharge (transportation of livestock);

Domestic discharge of the enterprise.
The adopted industrial wastewater treatment technology provides mechanical, physical-and-chemical, multistage biological treatment, post-treatment and disinfection increases the reliability of the treatment process.
The treatment process provides high resistance to hydraulic load changes, pH, temperature and pollution load.
The flow chart of deep wastewater treatment foreseen by the project allows for the achievement of quality indicators of treated wastewater that meet the conditions of discharging in the fishery water body.