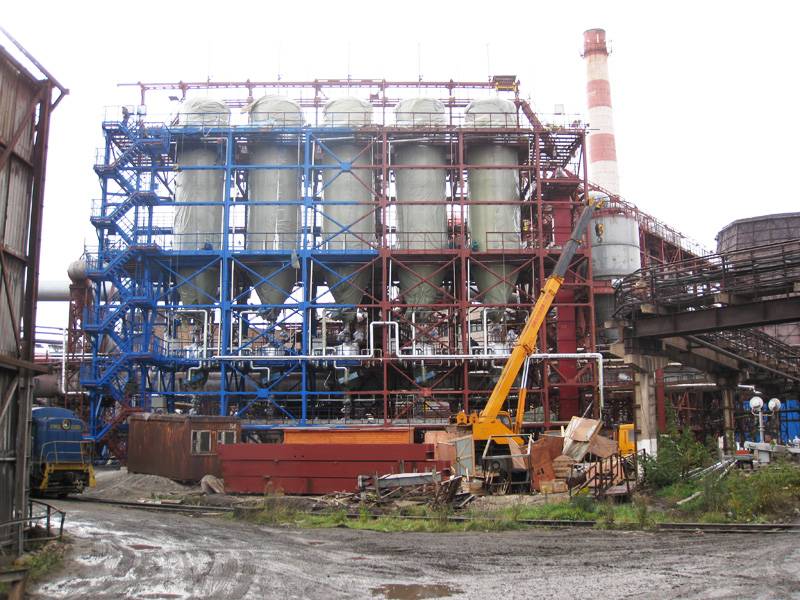 Protection of airspace from hazardous substances emissions of industrial enterprises is associated with a range of environmental problems, which solution guarantees the environmental security as a whole. To address these problems, gas cleaning and dust collecting plants and entire systems are being developed and applied, the demand for which is growing every year and is an integral part of smoothly running production. Fast and intensive development of industrial production contributes to the enhancement and diversification of technological processes related to the release into the atmosphere of a huge amount of mixtures containing dust and gas. Enterprises of light and food industry, iron and steel works, oil refineries, cement and chemical industries, recycling enterprises today require compulsory availability of gas and dust-collecting equipment. Strict requirements to the operation of industrial plants put the issue of purification of waste gases among the first.
REATORG IS THE COMPANY THAT IMPLEMENT THE GENERAL ENGINEERING OF GAS CLEANING SYSTEMS
REATORG offers its partners professional and effective support in the field of engineering systems and gas cleaning technologies. The company performs the whole complex of operations related to the engineering infrastructure development for industrial and civil construction facilities. Design, installation, automation of industrial aspiration, dust collection and ventilation systems, supply of gas cleaning equipment. Experience gained and trusted partners enable to guarantee MPC in the working area, MPE of dust into the atmosphere and ensure 100% recirculation of purified air into the production space, which improves the energy efficiency of the enterprise. It is possible to return the collected dust and spill back into the process.
We develop the following waste gas purification methods: gas cleaning and gas cooling units enable the gas emissions cleaning from dust and such harmful substances as nitrogen oxide, sulfur oxide, carbon oxide, hydrogen fluoride, hydrogen chloride, dioxin, furan, heavy metals and other elements.
We offer technologies and equipment, such as gas cleaning unit for efficient cleaning of gas emissions in production processes:
Iron and steel works

Waste recycling plants

Chemical industry
The range of services offered by the company:
Development of the best technology for the dust and gas cleaning system and/or upgrading of the existing gas cleaning equipment and gas cleaning plants;

Development of design and engineering documentation for gas cleaning systems and their modification;

Development, manufacturing, assembly, testing of gas cleaning systems, gas cleaning plants (gas scrubbers).

products, constantly improving the level of engineering systems and plants.
The following works are carried out by the Company's specialists:
Development of technologies, specialized calculations of heat- and mass-exchanging balances, calculations and selection of manufacturing, process equipment, design of technological processes implementation, design of manufacturing vessels. R&D, design of specialized processes implementation;
Specialized complex engineering issues of industrial gas cleaning and related water rotation. Calculations of material and heat balances of chemical technology processes. Selection and design of chemical equipment;
The gas treatment apparatuses we are developing:
cyclones and dust precipitation chambers;

horizontal and vertical electrocyclones;

column apparatus, packed absorbers, hollow scrubbers;

ejection gas scrubbers, scrubber-fans;

standard scrubbers and Venturi absorbers;

horizontal scrubbers.
The main specialization of our works is the individual development of cooling and vapor, fume, dust, trace gas cleaning unit, incl. local units with the use of advanced structural materials and engineering solutions.
We engage in the inspection of existing and planned process procedure, calculation of regimes, heat and mass flows, calculation of apparatus, selection of serial apparatus or design of new ones. Accompanying technical documentation.
We offer: cyclones, hollow scrubbers, packed absorbers, standard and ejection Venturi scrubbers, Venturi absorbers, multi-Venturi, ejection multi-Venturi and their combinations.

Scrubbers Centrifugal bubble unit Cyclones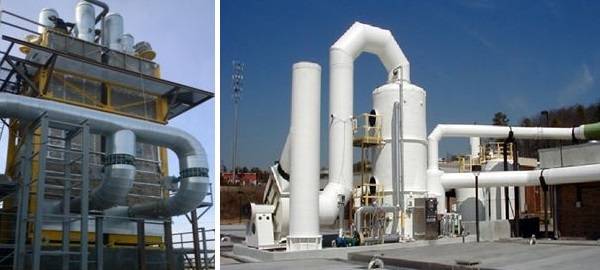 Electrostatic filters Gas cleaning plants
Selected with care, precisely and properly designed Venturi scrubber is one of the most recommended cooling and wet gas cleaning unit. Venturi scrubbers are characterized by the favorable ratio of efficiency, structural complexity, specific quantity of metal, quality of the preset processes. Venturi apparatuses may have an adjustable throat in cases of significant gas load change.
Cyclone is the main apparatus for preliminary dry dedusting. Improved designs of standard cyclones and low gas outlet cyclones provide stable and efficient gas cleaning, in some parameters up to sanitary standards.
For a number of industries, the introduction of ejector wet gas cleaners without fan is promising. Scrubber-fans, ejector scrubbers.
Small-scale units of local gas cleaning are designed from polymeric materials, for example, polypropylene. Medium capacity units for aggressive media can be made from fiber-glass plastic, metal, protected by polymeric chemical resistant mastic.

Material used, engineering design solutions and operating principle are on par with foreign analogs, and in some cases may be their analogs. Apparatus offered by foreign companies may be reproduced. The development of these apparatuses in accordance with the requirements specified can be carried out by enterprises that have considerable experience in calculating and designing, manufacturing and putting them into operation.